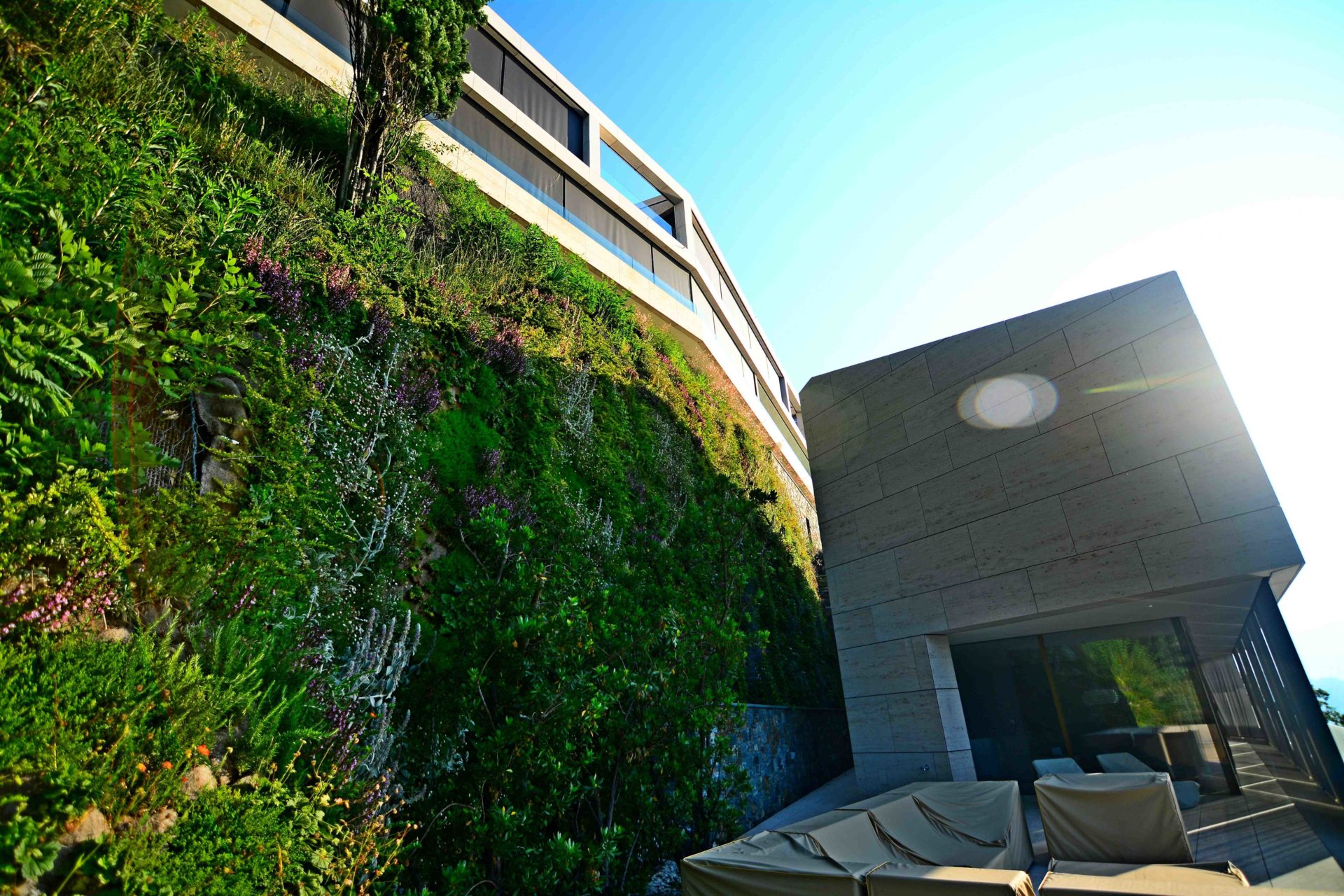 Flexiverde Vydro
Vertical gardens
Flexiverde Vydro® is the Poliflor patent for the construction of high quality green walls and vertical gardens
Living plants walls, for exteriors and interiors, which require appropriate maintenance.
Flexiverde Vydro allows the use of a wide floristic choice, is also suitable for extremely complex geometries and is entirely produced in Italy.
Technical features
The Flexiverde® plants support element is consisting of non-woven-fabric made by polipropilene 150g/mq with a needled-punched made of coconut fibre, bidirectionally geocomposite Rock PEC 35/35 and technical substrate made of VYDRO polyurethane foam, kept together by a parallel discontinuous seam with a polyester thread. In the top part of the module a slot is formed in the Rock PEC tissue suitable to accommodate the fixing bar for the support of the system. Periodically, the parallel seam is interrupted to allow the insertion of transverse drip-line for irrigation of the module as well and of additional fixing bars for better adhesion to the structures. The non-woven with a needled-punched made of coconut fibre is suitably pre-cracked so as to create pockets, within which plants in pots of Ø8-9cm will be inserted.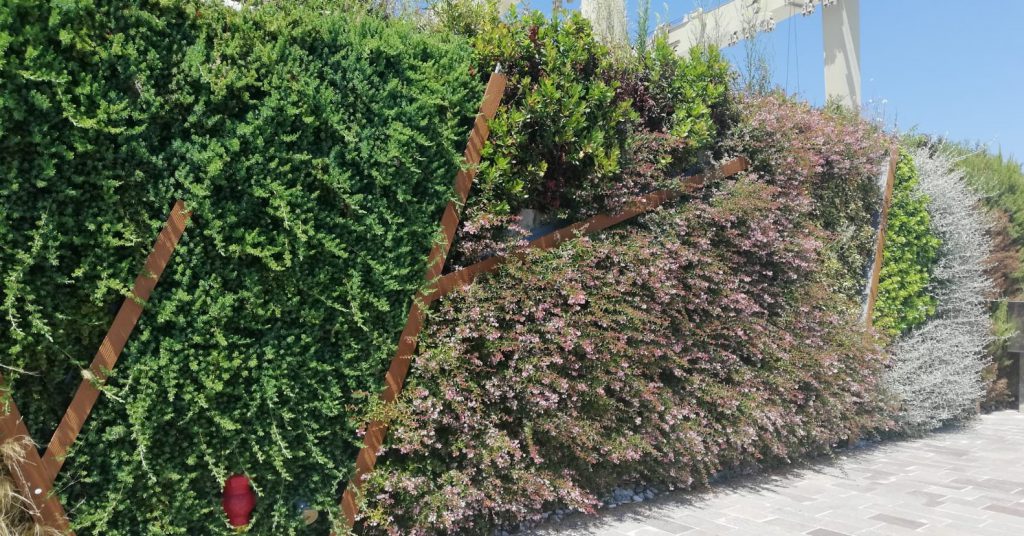 Benefits
Usage flexibility
Usable for both internal and external creations
Wide variety of available species
Readymade visual effect
Ease of replacement in case of plants decay on the single element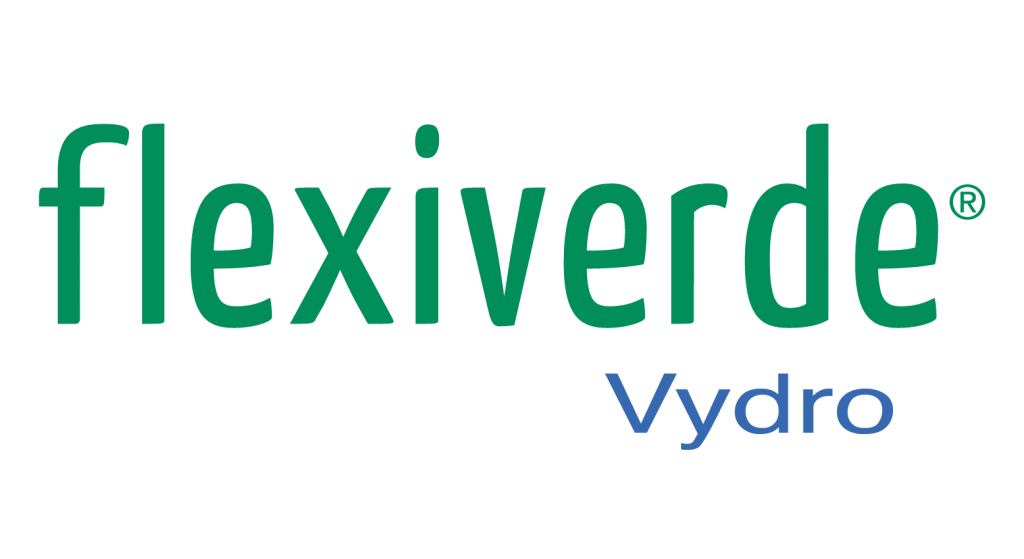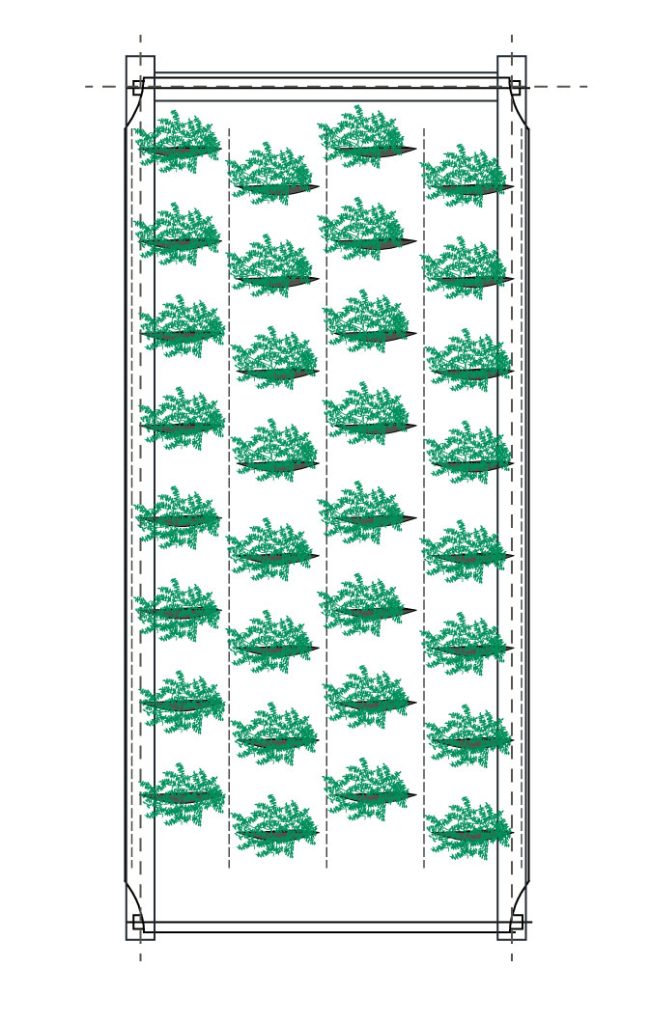 System components
1 – Structure
The structure that is fixed to the wall object of the intervention is based 100% on the components of the Hilti system, available in all the Hilti network stores, in Italy and in Europe.
2 – Rooting mat
The rooting mat, made up of a sandwich of high tenacity geosynthetics, is fixed to the structure and contains the driplines of the irrigation system.
3 – Irrigation
The integrated irrigation system allows remote control and monitoring via the control unit.
4 – Plants
Finally the plants, being able to choose from a wide range of flora depending on the exposure of the wall and the climatic conditions of the site.
| | |
| --- | --- |
| Module dimensions | 1.15m * 10 meters max height (repeatable module) |
| Weight | 35 kg/m² |
| System thickness | 7-10cm (plants excluded) |
| Water requirement | 5-6 l/m² (summer season) |
| Plants | 38-48/m² |
| Irrigation remote control unit | Yes |
| Perimeter drainage channels | Yes |
| Installation hours | 2,5 h/m² |
Installation sequence
Before proceeding to the execution and realization of the vertical garden, it should be noted some information necessary to the editing of a preliminary yard report.
The obstacles of the wall object of the work, paying particular attention to the possible ones that must be taken into account during the planning (windows, doors, deformities, sloping variations, etc.)
The materials used for the building of the wall object of the work (reinforced concrete, full bricks, pierced bricks, etc.)
Possible presence of beams or other architectonic elements useful for the installation
Soil conditions at the bottom of the wall object of the work
Possible presence of electric ducts or water tubes, either internal or external to the wall object of the work
Exposure to different environmental conditions (distance from the sea, wind, etc.)
For external installations: orientation and exposure of the wall (shaded areas, sunny areas, etc.)
For internal installations: possible presence of natural sources of light
Possibility of in loco water and electrical connections